ALB Crystallography
CCP14 Homepage
---
SDPDRR Homepage
What's New
Known Methods
The Samples
Download Data
---
Poster
---

What's New
The SDPDRR Homepage is at http://www.cristal.org/SDPDRR/
---
The second SDPDRR started September 9th, 2002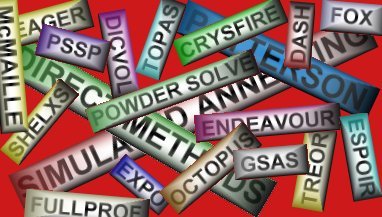 ---
The SDPDRR-1 is closed
Deadline was June 30, 1998
Summary :
70 download of data (see full connection statistics)
4 participants
1 submission on sample 1 (inorganic)
4 submissions on sample 2 (pharmaceutical)
See "X-raying the Web", a paper written by David Bradley about the SDPDRR results, and published by ChemWeb.

---

Post-deadline submissions are welcome, but will be analyzed in a different way (you should not consult the organizer's results ;-)
---
22 June 1998 - last announce

As soon as 1st July, the organizer's results for the 2 samples will be made available on this Web site. Of course they should not be considered as the "best" results. They will help you to wait for the Round Robin conclusions (if any). Participants will receive a .cif file containing the SHELX output of a refinement on sample 2 single crystal data (from a 40x30x20 microns microcrystal selected in the SDPDRR powder sample, two weeks ago).
Statistics:

4070 file queries (total)
794 for index.html
323 for samples.html
208 for download.html
62 data downloaded

3rd June 1998, SDPDRR Web site statistics

2731 file queries (total)
429 for index.html
223 for samples.html
155 for download.html
52 data downloaded

25th May 1998

One week statistics : 260 access to the Web site (index.html) and 28 data download.

20th May 1998

Data downloaded 18 times in 2 days.

18th May 1998

Official announce on the Rietveld Mailing List, xtallography Newsgroups and more, plus personal mailing.

17th May 1998
14th May 1998

Webpages Created, Samples and Data Finalized.
---
Copyright © 1998 L.M.D Cranswick & A. Le Bail
---
[SDPDRR Homepage | What's New | Download Data]
[CCP14 HomepageALB Crystallography]
---
Please feel free to email any queries to Lachlan Cranswick at: l.cranswick@dl.ac.uk
---